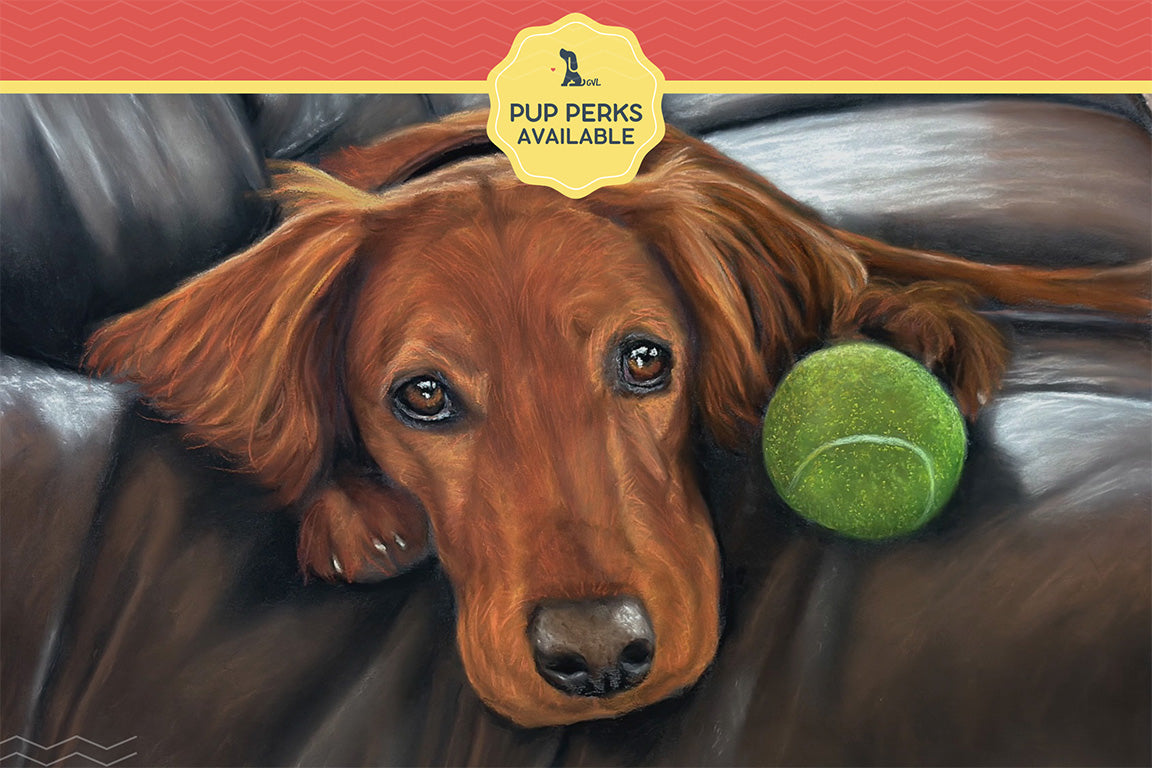 Pet Portraits by Olivia: Capturing Memories with Artistry
Whether you are seeking a cherished gift, a heartfelt memorial, or a captivating conversation piece for your home, Olivia's pet portraits are the perfect choice.
Pup Perks: $50 Off Your First Pet Portrait When You Complete the Form Below
At Good Dogs of Greenville, we believe that our furry friends hold a special place in our hearts. They bring us joy, comfort, and unconditional love. That's why we are excited to introduce you to Olivia, a professional soft pastel artist who has been creating exquisite pet portraits here in the Upstate for the past seven years. 
Olivia's talent and dedication have earned her recognition not only locally but also from pet owners all around the world, including as far as Australia! Her work has garnered recognition from Bravo reality TV star Cameran Eubanks Wimberly, and her pieces have been featured in the esteemed Greenville TALK Magazine. 
A Gift to Treasure
Pet portraits make extraordinary gifts for your loved ones.
Imagine the joy on their faces as they unwrap a carefully crafted portrait of their furry friend on Christmas morning. It's a unique and thoughtful present that showcases your love and understanding of their deep connection with their pet.
Olivia's artistic skills transform each portrait into a heartfelt tribute—a testament to the love and companionship that pets bring into our lives. She understands that pets hold a significant place in our hearts, becoming cherished members of the family. Through her artistry, she not only creates a beautiful piece of decor but also immortalizes the essence of the pet, ensuring that their memory lives on for years to come.
I cannot begin to thank you enough for doing such a wonderful job on this piece. You're an amazingly talented artist, and I'm already looking forward to having you do a second portrait of our newest addition to the family in the near future
A Conversation Piece for Your Home
Not only do pet portraits hold sentimental value, but they also serve as stunning pieces of art.
Olivia's mastery of soft pastels brings out the rich textures of fur, the sparkle in their eyes, and the warmth of their personalities. These portraits add a touch of elegance and charm to any space. Whether you hang them in your living room, office, or even your pet's favorite spot, they become a captivating focal point. 
Furthermore, a pet portrait is a gift that keeps giving. It becomes a conversation starter, with visitors and friends admiring the skill and attention to detail that went into its creation. It sparks conversations about the unique personalities and quirks of our beloved pets, creating a shared appreciation and understanding among fellow animal lovers.
I wanted to let you know that my now husband absolutely LOVED Juneau's portrait. We have been together for 5 years now and he agreed it was the best present I've ever given him.
Bringing Smile in Difficult Times
These portraits transcend mere decoration; they become a testament to the extraordinary bond we share with our furry companions. 
Beyond their aesthetic appeal, pet portraits by Olivia carry an emotional weight that resonates deeply with both pet owners and admirers of art. They evoke memories and emotions, inviting viewers to reflect on their own relationships with their pets or perhaps reminisce about beloved pets from their past. They serve as reminders of the unconditional love and unwavering loyalty that our furry friends provide, bringing comfort, joy, and companionship into our lives.
OH WOW!!!! I'm so blown away!!!!! Gosh, makes me tear up! This will mean the world to him!! Thank you so, so much!!!
The Importance of Framing
To enhance the beauty and longevity of your pet portrait, proper framing is essential. Olivia understands the importance of presentation and offers custom framing services upon request. Soft pastels require specific framing techniques and materials to ensure their longevity and safeguard against smudging or damage. 
If you prefer a specific style or have a particular vision in mind, she can work with you to create a frame that complements the artwork and suits your home's aesthetic.
About Olivia: A Journey of Passion and Dedication
Olivia's journey as an artist has been filled with perseverance and triumph. Five years ago, in 2015, she found herself unemployed and defeated. However, she turned to her art as a form of solace and self-expression. Working in a small, cramped space within her dad's workshop, she poured her heart and soul into her craft.
Through determination and the support of her clients, Olivia's business flourished, and she now has her own studio space. Her childhood dream of becoming an artist has been fulfilled, thanks to the unwavering support of the community.
Olivia's artistic journey took a fortunate turn when her cousin, reality star Cameran Wimberly, shared her work on Instagram a few years ago. This unexpected exposure drew significant attention to Olivia's talent and became a turning point for her business. The support and encouragement she received from her cousin and the wider community played a crucial role in shaping her artistic path.
By supporting a local artist like Olivia, you contribute to the realization of a dream and help preserve the beauty of our pets through art.
Soft Pastels / Art Medium Used
Soft pastels are pure dry pigment combined with just enough binder to form into sticksthat provide a beautiful, soft, matte finish. It's the same medium Masters of theRenaissance (such as Leonardo da Vinci) used in portraits and many modern artists inthe UK still use today. Pastels are made to adhere to textured surfaces, but will need tobe kept behind glass as the medium can still smudge due to that lack of binder. Thisdoes not mean a lack of quality, but actually a purer quality. The less binder, the purerthe pigment. This results in a very precious, very classic piece of art.
Sizes & Pricing
Single 20x25 inches
Unframed Price:  $ 1,025​​ - Great for full body poses. Best size for a statement piece in your home.
Single 16x20 inches
Unframed Price:  $ 817 - Most popular size. ​​
Single 11x14 inches
Unframed Price:  $ 608 - Great for any wall in your home! Not ideal for full body poses.​​
Two 16x20 inches​​
Unframed Price:  $ 1,025 - You can send separate photos and they can be combined. 
Two 20x25 inches
Unframed Price:  $ 1,217 - Great if you want to go vertical instead of horizontal. BEST size for a statement piece in your home.​​
Three 20x30 inches
Unframed Price:  $ 1,409 - If you have multiple petsin separate photo references - sometimes it makes more sense to ​​do heads only.
Frequently Asked Questions
Can I pay once the portrait is finished?
The customer would need to put 10% down before the portrait can begin. The remaining amount will be due once the portrait is completed. If the customer cancels after two weeks of the retainer payment, it cannot be refunded.
How long does it take to get a portrait made?
Olivia can get booked out 1-3 months in advance. Once the retainer is paid, she reserves the next available slot on her calendar. The portrait is usually completed within that same month, but the completion can sometimes rollover into the following month.
Do the portraits come framed?
The prices listed are unframed, but soft pastels do require framing.
Does the artist need to see the pet in person?
It is all done conveniently online. All Olivia needs is a good main photo as the reference, but additional photos are great for understanding eye and fur color.
Can I have multiple pets together on one drawing?
Multiple pets can be together for sizes 16x20 to 20x30. One photo as reference that has all pets together usually work really well. However, the artist has also combined multiple photos together.
Can I add whatever background I want?
Most portraits come with a solid/gradient color background of the customer's choice to keep the focus on the pet, but the artist has taken requests and creative liberty as well.
Can I get photo approval before I pay a retainer?
Yes! Olivia has worked with all kinds of photo references, but the better the photo, the better the final artwork will be.
Where can pet portraits ship to?
Anywhere in the world! Olivia has shipped pet portraits all the way around the world to Australia!
Ready to capture the beauty and essence of your beloved pet through a stunning and personalized pet portrait by Olivia?