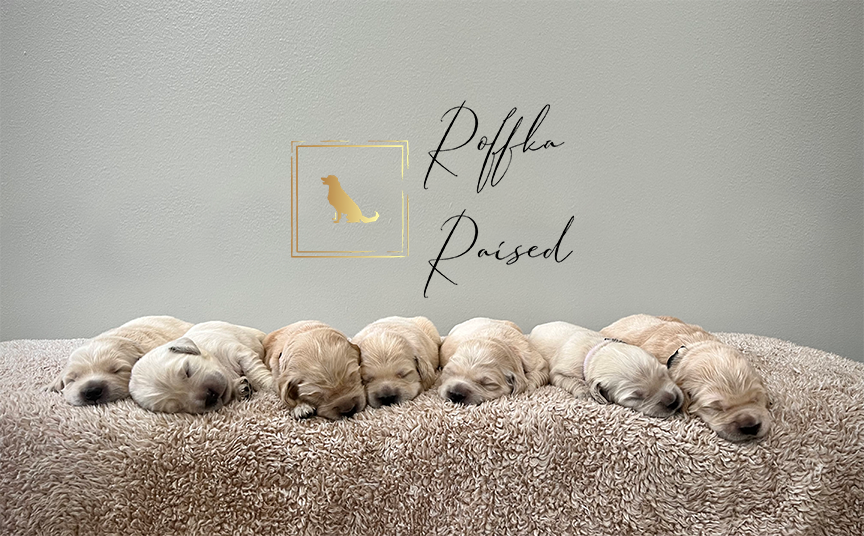 Roffka Raised: Breeding Beautiful Golden Retrievers with Love and Care in Greenville, South Carolina
Roffka Raised, located in Greenville, South Carolina, is a breeder dedicated to providing loving homes with beautiful Golden Retriever puppies.
Health and Temperament Assurance
Comprehensive Puppy Package
Commitment to Responsible Breeding and Support
With a strong focus on health and temperament, Roffka Raised offers puppies that are suitable as family companions, service dogs, and therapy dogs. They are committed to responsible practices in breeding, training, and rehoming, ensuring a positive experience for both buyers and puppies. With their commitment to giving back, Roffka Raised donates one puppy per year to a candidate in need through their partnership with nonprofit service dog organizations. 
Email: RoffkaRaised@gmail.com
Phone: (828) 458-1974
This puppy adoption experience has been next level. Meredith got to know us and kept us updated on every step of the way. She is always ready with answers and advice to my questions! It is obvious from Day 1 how much time and love she pours into these puppies.
Puppy Enrichment & Socialization
Programs & Testing
Roffka Raised prioritizes the well-rounded development of their puppies through comprehensive enrichment and socialization programs. Utilizing the Puppy Culture program and the Badass Breeder program, the puppies receive early neurological stimulation and are exposed to various socialization techniques that reduce stress and fear, promoting the development of happy and healthy puppies. Additionally, Roffka Raised partners with experienced trainers who conduct the Volhard Temperament Test at 6 weeks to assess each puppy's temperament. 
Initial Training
The puppies undergo initial potty training, crate training, introduction to basic commands, and service dog training. They are exposed to a wide range of stimuli such as noise, visitors, texture, and sound, and are socialized with cats, adult dogs, and children. Early socialization and litter box training are also important aspects of their upbringing.
Puppy Package: Everything You Need for a Great Start
Included in the Roffka Raised puppy package are a range of valuable items and services designed to support you and your new furry family member. Each component plays a crucial role in ensuring a smooth transition and a positive start to your puppy's journey. Here's what you can expect:
Nutritious Food and Discounts
5lb Bag of Nature's Select Food: A high-quality, nutritious diet for your puppy.
10% Discount on Future Food Purchases: Making it easier for you to continue providing your puppy with the same quality nutrition.
Partnered Small Business Discounts
Discount Codes to Partnered Small Businesses: Enjoy special offers and discounts while supporting local establishments.
Stylish Accessories
Bandana & Puppy Collar: Your puppy will receive a bandana and a puppy collar, adding a touch of style and personality to their appearance. 
Comforting Blanket
Blanket with Littermates' and Mother's Scents: Provide a familiar and comforting scent for your puppy so that they feel secure in their new home.
Support for Therapy Dog Training
Gift Card Towards First Training Boot Camp: For those who choose a puppy for therapy dog training, Roffka Raised goes the extra mile by providing a gift card towards the first training boot camp with their partnered trainer. This helps set you and your puppy on the path towards successful therapy dog training.
Professional Grooming Care
Gift Card for Puppy Bath at a Groomer: Roffka Raised understands the importance of proper grooming, which is why they include a gift card to a groomer for a puppy bath. This ensures that your puppy receives professional grooming care and starts off with good hygiene habits.
Insights into Your Puppy's Personality
Volhard Personality Test: To gain insights into your puppy's personality, the package includes a Volhard Personality Test. This test helps you understand your puppy's individual traits and characteristics, allowing you to tailor your training and care accordingly.
Welcome Home Bags & Information
Valuable Bags & Information: Roffka Raised also provides welcome home bags filled with valuable information to guide you through the initial stages of puppy ownership. 
Early Training Foundations
Early Neurological Stimulation: Roffka Raised stimulates and develops your puppy's neurological system for optimal growth.
Sit Training by 7 Weeks Old: Roffka Raised begins training your puppy to sit early on for a well-behaved companion.
Health Documentation and Vaccinations
Certificate of Health: Documentation confirming your puppy's overall health and wellness, including a certificate of health, that shows that your puppy has received thorough veterinary care.
Necessary Vaccinations: Ensure your puppy is protected against common diseases. Necessary vaccinations are also administered, giving you peace of mind knowing that your puppy is protected against common diseases. 
With the comprehensive puppy package from Roffka Raised, you can confidently embark on your journey with your new puppy, equipped with essential items, professional support, and the knowledge that your puppy's health and well-being are of utmost importance.
Health and Guarantee
Roffka Raised ensures the health of their puppies through:
Regular vet check-ups every 2 weeks
Deworming
First vaccinations
A vet health clearance before the puppies go to their new homes 


1-Year Health Guarantee
To provide further assurance, Roffka Raised offers a 1-year health guarantee that covers genetic conditions and defects, prioritizing the well-being of the puppies and the satisfaction of their owners.
How to Get a Puppy from Roffka Raised
Prospective buyers interested in a Golden Retriever puppy from Roffka Raised are required to complete an application process. The breeder requests information about the buyer's preferences and requirements to assist in finding the perfect match.
After submitting the application, Meredith Roffka, the breeder behind Roffka Raised, personally follows up with applicants regarding availability, pricing, and the next steps in the process.
About the Breeder Behind Roffka Raised: Meredith Roffka
Meredith Roffka, the passionate breeder behind Roffka Raised, operates a small hobby breeding program in Greenville, SC. Specializing in breeding Golden Retrievers with service and therapy temperaments, Meredith and her family take great pride in their program. With a supportive husband and three children, they have personally experienced the transformative power of service dogs in overcoming early childhood trauma.
This personal connection fuels their commitment to giving back and providing healthy and well-rounded puppies for service and therapy purposes. Roffka Raised goes beyond being just a breeding program—it is a family's endeavor to make a positive impact on the lives of handlers and their families.
Supporting Nonprofit Service Dog Organizations and Changing Lives
Roffka Raised is proud to work in collaboration with nonprofit service dog organizations to make a positive impact in the lives of individuals who benefit from the companionship and assistance of a service dog. In line with their commitment to giving back, Roffka Raised donates one puppy per year to a candidate in need through these partnerships.
If you know of a deserving candidate or would like to recommend a submission for consideration, we invite you to fill out the form below and provide the necessary details. They welcome candidate submissions and recommendations throughout the year, as they believe in the power of service dogs to make a profound difference.
In addition, if you would like more information on the nonprofit service dog organizations they work with, they are happy to provide you with further details. Reach out to Roffka Raised to learn more about these organizations and the incredible work they do in the service dog community.
At Roffka Raised, they believe in the transformative power of service dogs and are dedicated to supporting individuals in need. Join them in our mission to change lives through the love and assistance of these remarkable canine companions.