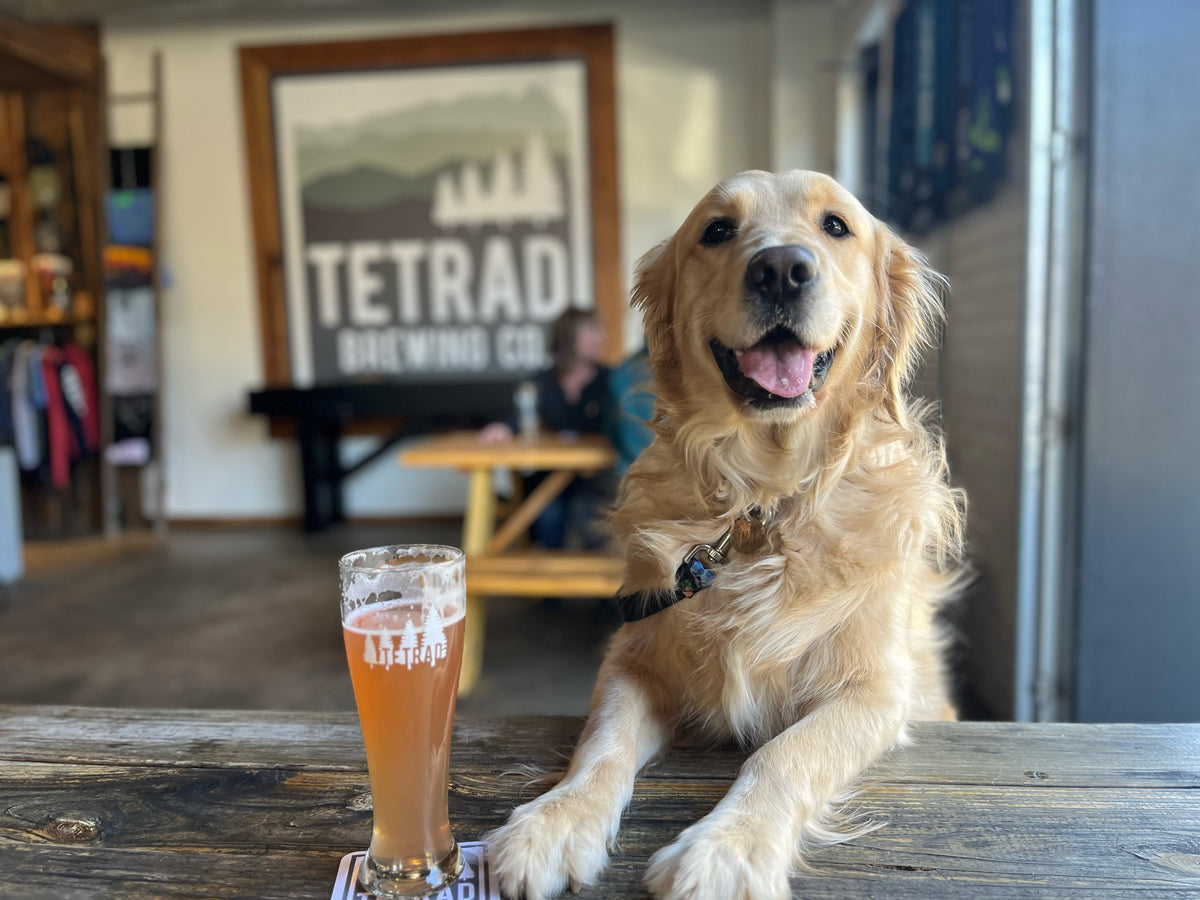 Tetrad: A Dog-Friendly Brewery Where Dog-Lovers and Beer Enthusiasts Unite
Dog-Friendly Inside & Outside
Live Music, Food Trucks, Music Bingo, Trivia, Yoga, Specials & More
Follow Tetrad Brewery on Instagram for "Weekly Happenings" schedule
Hours:
Monday, 4–10 PM
Tuesday, 4–10 PM
Wednesday, 4–10 PM
Thursday, 4–10 PM
Friday, 12–10 PM
Saturday, 12–10 PM
Sunday, 12–7 PM
The Beginnings of Tetrad
It all began with a simple gift from one brother to another. Chad Tydings gave his brother John Bucher a Mr. Beer Kit for his 23rd birthday, and the rest is history. John quickly discovered his passion for crafting high-quality beer, and with the help of his brother, he turned that passion into a successful micro-brewery that the local community loves.
At Tetrad, family comes first. John and Chad have lived all over the country, but they finally found their home in Greenville, where they are dedicated to creating a warm and welcoming environment for everyone who walks through their doors. And that includes welcoming four-legged friends inside the taproom and on the patio.
tetradbrewingco.com​​
Mastering Craft Beer & More
Tetrad Brewing Company is known for mastering true-to-style craft beers, often with a unique and modern twist. But it's not just about the beer; it's about the experience. From live music and trivia nights to patio parties and yoga classes, Tetrad has something for everyone.
Dog-Friendly Brewery
Tetrad is a family-owned brewery that is passionate about creating a warm and welcoming environment for everyone, including the four-legged members of the family. They welcome not only their human customers but also their furry best friends. 
As a dog-friendly establishment, well-behaved dogs are welcome on both the outdoor patio and taproom. However, Tetrad doesn't just tolerate dogs; they genuinely love them.
Their dedication to being a dog-friendly brewery extends beyond just allowing dogs on the premises. Tetrad truly understands the importance of including dogs in the brewery experience.
@theoventures​​
Events & Entertainment
Tetrad Brewing Company isn't just a place to grab a beer, it's also a hub for community events and entertainment. From live music and bingo nights to trivia events and yoga classes, Tetrad has something for everyone. Their weekly Music Bingo and Trivia Nights have become a popular staple among locals and visitors alike. 
Weekly Happenings
| | |
| --- | --- |
| Re-Stock Monday's - 15% Off Tetrad Growler Fills | Every Monday |
| Tetrad Trivia | Every Tuesday |
| Wine Specials | Every Wednesday |
| Music Bingo | Every Thursday |
| Live Music | Varies (follow on Instagram for weekly schedules) |
| Food Trucks Onsite | Varies (follow on Instagram for weekly schedules) |
| Pawdicures & Pints | Every other Saturday (follow on Instagram for weekly schedule) |
| Yoga | Varies (follow on Instagram for weekly schedules) |
Unique Experiences
Skeech
One of the unique experiences Tetrad offers is Skeech, a combination of skee-ball and shuffleboard that is sure to entertain both humans and dogs alike. 
Build-A-Brew Workshops
They also offer build-a-brew workshops, where customers can get a behind-the-scenes look at the brewing process and even create their own custom beer.
Love for Family, Community, and Beer
But at the end of the day, Tetrad is all about love. Love for family, love for community, and love for great beer. So, go grab a pint, make some new friends (both human and canine), and experience the warmth and hospitality of Tetrad Brewing Company. After all, they always brew for the love of family and you.
So why wait? Grab your leash, put on your favorite Good Dogs of Greenville shirt, and head on over to Tetrad Brewing Co.!  And while you're there, don't forget to share your experience with us by tagging us on social media using the hashtag #gooddogsofgreenville. We can't wait to see you and your furry friend enjoying everything that Tetrad has to offer.
Choosing a selection results in a full page refresh.
Opens in a new window.