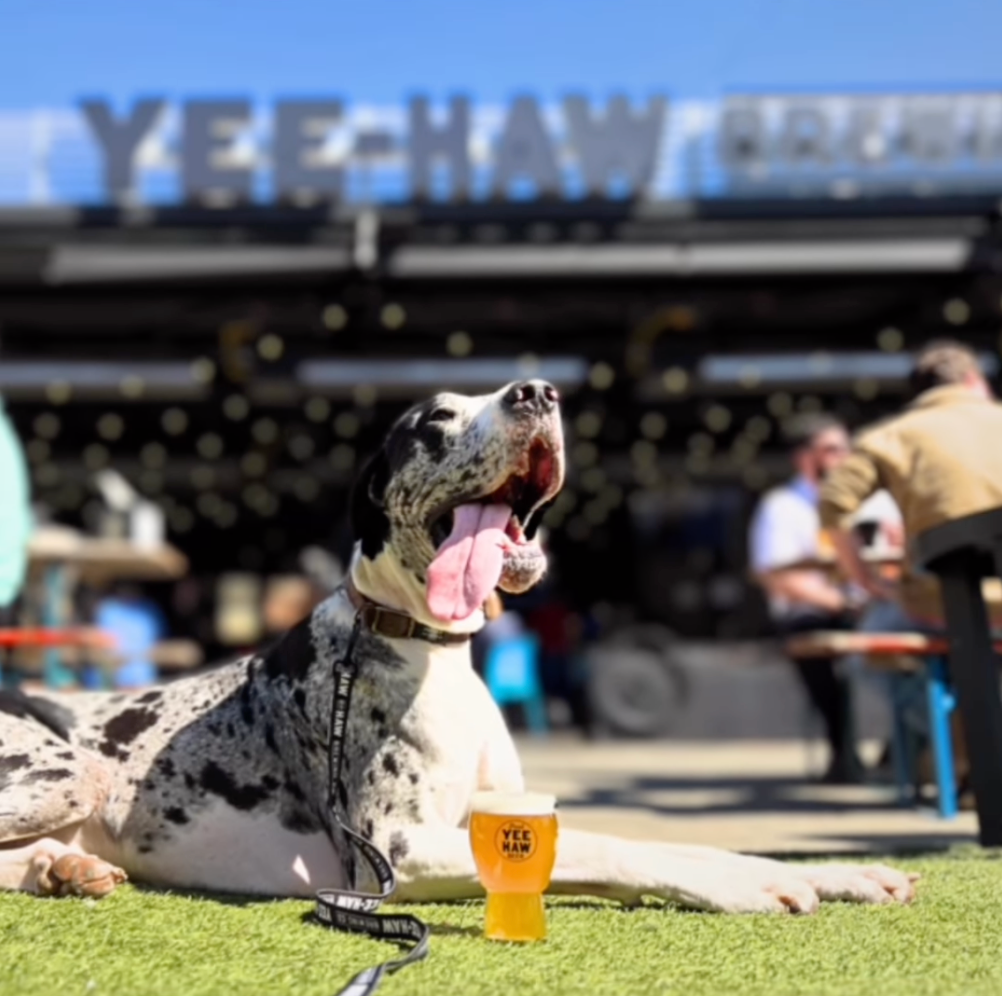 Yee-Haw Brewing Company: Drink Beer, Love Dogs at this Dog-Friendly Brewery in Greenville
Dog-Friendly Outside Only
Location: 307 E McBee Ave Suite C, Greenville, SC
If you're a dog lover looking for a fun spot to hang out with your furry friend in Greenville, South Carolina, you need to check out Yee-Haw Brewing Company. Not only is this brewery known for its fantastic craft beers, but it's also incredibly dog-friendly. Here's everything you need to know about Yee-Haw Brewing Company and why you and your pup should check it out.
Located in the heart of downtown Greenville, Yee-Haw Brewing Company is a popular spot for locals and visitors alike. The brewery has a spacious taproom with plenty of seating options, including a dog-friendly outdoor patio. You can bring your pup with you while you enjoy a cold beer, catch up with friends, and take in the lively atmosphere.
One of the things that sets Yee-Haw Brewing Company apart is its excellent selection of craft beers. From the smooth and refreshing Pilsner to the bold and flavorful IPA, there's a beer for everyone at Yee-Haw. If you're not sure which beer to try first, the friendly and knowledgeable staff are always happy to make recommendations.
But what about your furry friend? Don't worry, Yee-Haw Brewing Company has got you covered. The outdoor patio is dog-friendly, so you can enjoy your beer with your pup by your side. There are water bowls available to keep your pup hydrated, and the staff is always happy to provide treats and pets. You and your pup can even watch the big game or catch a movie on their giant tv on the outdoor patio.
Overall, Yee-Haw Brewing Company is an excellent spot to hang out with your furry friend in Greenville. With great beer, a dog-friendly atmosphere, and fun events, it's no wonder why this brewery is such a hit with locals and visitors alike. So grab your pup, put on your favorite Good Dogs of Greenville shirt and head on over to Yee-Haw Brewing Company for a fun and memorable time.
And while you're there, don't forget to share your experience with us by tagging us on social media using the hashtag #gooddogsofgreenville. We can't wait to see you and your furry friend enjoying everything that Yee-Haw has to offer.
Choosing a selection results in a full page refresh.
Opens in a new window.