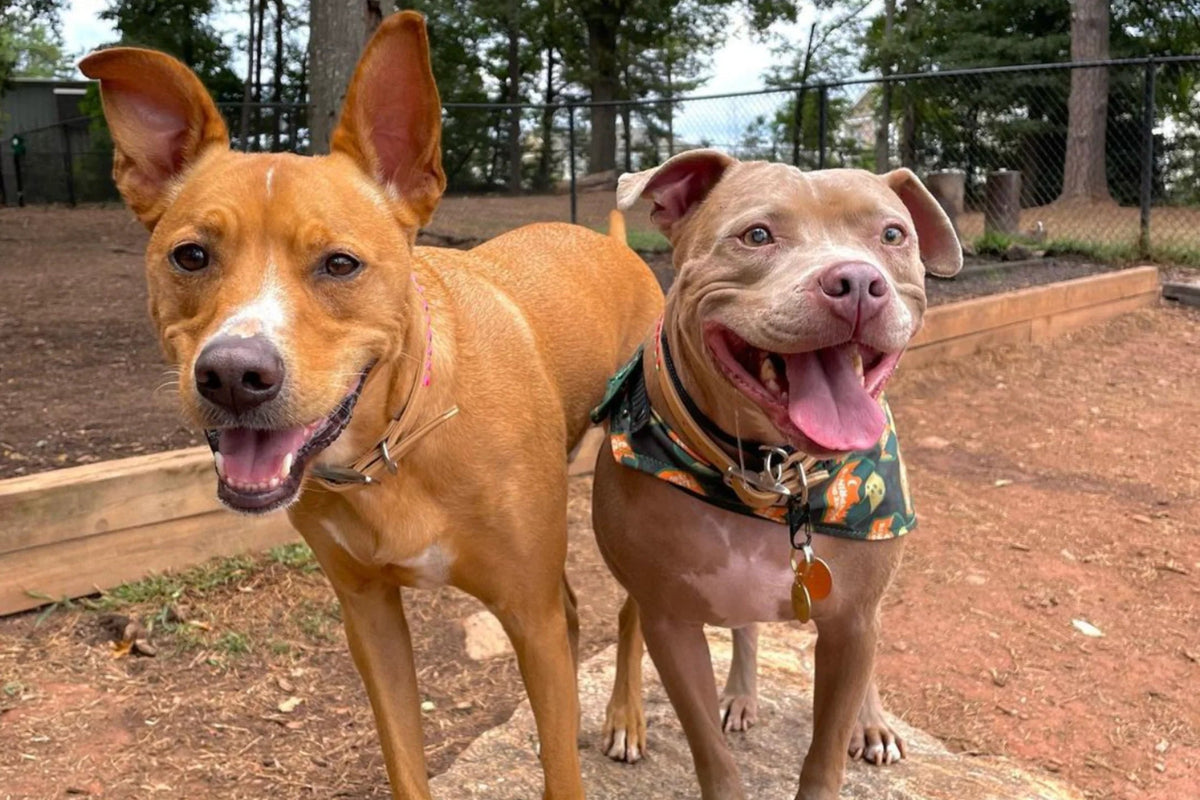 Exploring Greenville's Off-Leash Dog Parks
Let's dive into some of the best dog parks in Greenville, where you and your furry friend can run, play, and socialize with other pups. From dog parks at nature preserves to charming dog park bars, Greenville has plenty of options for you and your pups. So grab your leash, some water, and let's explore the top dog parks in the area!
The Unleashed Dog Bar
Location: 
69 Rocky Slope Rd, Greenville, SC 29607
Unleashed is a unique dog bar in Greenville, South Carolina, that offers a completely off-leash dog park for dogs and their owners to play and socialize. With plenty of indoor and outdoor seating, Unleashed is the perfect spot for humans to enjoy a drink or snack while their furry friends run free. The dog park is well-maintained and offers a variety of play features and water stations to keep dogs entertained and hydrated. 
Unleashed is also a popular spot for dog birthday parties, adoption events, and other dog-friendly gatherings. If you're looking for a fun and unique experience with your pup in Greenville, make sure to visit Unleashed!
@gvl_golden_girls​​
Dapper Dog
Location: 
201 Murray Dr, Mauldin, SC 29662
Dapper Dog is a dog park bar located in Greenville, South Carolina that offers a safe and secure space for dogs to play while their owners enjoy a refreshing drink or snack. The park features a spacious outdoor area with agility equipment, water fountains, and shade to keep dogs comfortable. 
Dapper Dog also hosts a variety of events throughout the year, including charity fundraisers and breed-specific meetups. This dog park bar is the perfect destination for anyone looking to spend quality time with their furry friends while enjoying a unique experience in a community-focused environment.
@thebernerboysofsc​​
Conestee Dog Park
Location: 
840 Mauldin Rd, Greenville, SC 29607
Conestee Dog Park is the ultimate spot for dogs and their owners to have a fun-filled day outdoors. Situated on a sprawling 15-acre property, the park boasts separate areas for small and large dogs, ensuring that all pups have a chance to play safely. But that's not all - the park also features a walking trail and picnic areas, making it the perfect spot for a full day of adventure. 
The off-leash Conestee Dog Park is carefully designed with the comfort and safety of your furry friends in mind. With naturalized areas, rounded fence corners to reduce canine conflict, benches, shade shelters, and potable running water, it's the ultimate play space for your pups to frolic and make new friends.
Pelham Mill Dog Park
Location: 
2770 E Phillips Rd, Greer, SC 29650
Looking for a peaceful oasis to spend quality time with your furry friend? Look no further than Pelham Mill Dog Park! Spanning 14 acres and nestled near the Hwy 14/I-85 interchange near Greenville Spartanburg Airport, this dog park offers separate areas for small and large dogs, a creek for swimming, and several hiking trails. 
Pelham Mill Park is also recognized by the National Register of Historic Places and Greenville County Historic Preservation Commission as a historic site, featuring a masonry dam and overlook where visitors can view architectural remains of the old mill and the cascading shoals of the Enoree River. 
Remember, when visiting dog parks with your pup, always make sure to bring plenty of water and waste bags, and supervise your dog at all times. And, as always, be sure to clean up after your pup to help keep our parks clean and enjoyable for all.
So, what are you waiting for? Grab your favorite Good Dogs of Greenville shirt below and treat your pup to a day out exploring Greenville's many dog parks. They'll love the chance to run and play with other dogs, and you'll love the chance to get outside and enjoy the beautiful weather.
And don't forget to tag us during your park adventures using #gooddogsofgreenville