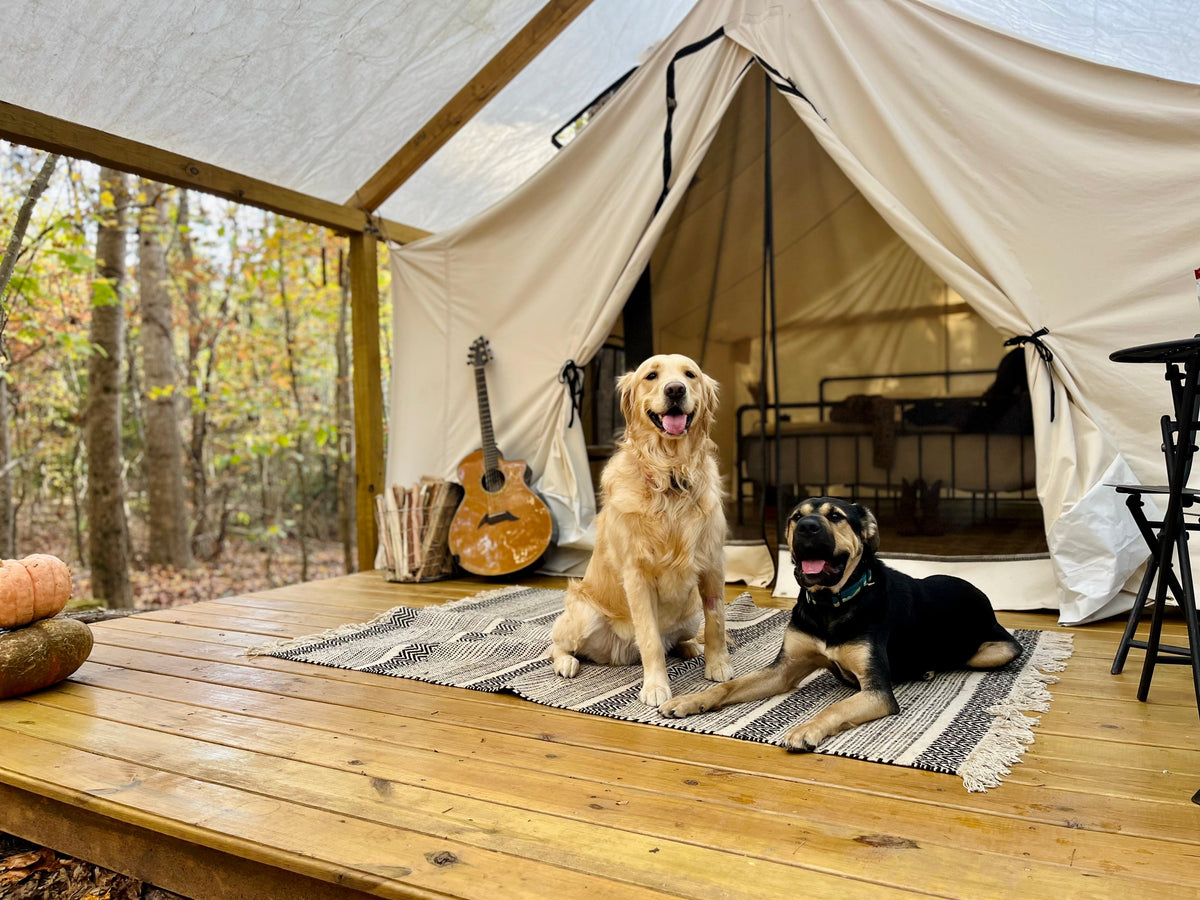 Unplug and Unwind: A Dog-Friendly Luxury Camping Experience at StayCamp
Are you looking for a vacation that doesn't mean leaving your furry friends behind?
Look no further than StayCamp, an off-grid luxury camping experience located on 44 acres on the outskirts of Spartanburg, SC. 
At Good Dogs of Greenville, we recently had the pleasure of discovering this hidden gem, where both you and your beloved dogs can enjoy a memorable adventure in the great outdoors. StayCamp is a family-owned and operated sanctuary that offers a unique opportunity to bond with your four-legged companions in a dog-friendly paradise.
Location: Spartanburg, South Carolina
StayCamp is A Dog's Dreamland
The PineStone Tent @ StayCamp is more than just a camping spot; it's a dog's dreamland. Situated amidst lush rolling forests, with creeks babbling and a gentle waterfall, this is a place where tails are always wagging. Just 10 minutes from downtown Spartanburg, you'll feel like you're a world away from the city, yet close enough for convenience.
The Luxurious Accommodations
Inside the 12' x 15' canvas tent, you'll find a super comfy king-sized mattress, perfect for a restful night's sleep. StayCamp provides all the essentials, including cast iron cookware, dishes, utensils, and a cooler to keep your food and drinks chilled. 
While the tent is entirely off-grid, you won't miss out on comfort. In winter, cozy up by the wood-burning stove, and in summer, stay cool with an electric water-cooled fan. Solar and battery-powered lights illuminate your space, and fresh filtered water is provided for drinking.
For the coffee-loving pet parent, StayCamp has you covered with a kettle, pour-over coffee maker, coffee, and sugar. And if you order the breakfast package, your morning brew comes freshly pressed in a French press, ready for you to enjoy around the campfire. Don't forget to bring your dogs' favorite treats for a coffee break paw-ty!
Disconnect to Reconnect with Your Dogs
StayCamp encourages guests to disconnect from the outside world and immerse themselves in nature, and that includes your dogs. There's no WiFi at the tent, but with most cell phone providers working well here, you can use your mobile hotspot for emergencies or to capture those Instagram-worthy moments of your dogs enjoying the outdoors. But we recommend leaving work behind and focusing on the important things: quality time with your four-legged companions.
Bathroom Simplicity
StayCamp's outdoor bathroom is designed with simplicity and eco-friendliness in mind. You'll find a compostable toilet, a refreshing rainfall shower, and a sink supplied by a gravity-fed 55-gallon container. Eco-friendly hair and body products are included, along with fresh towels and washcloths, ensuring both you and your dogs stay fresh and clean throughout your stay.
A Dog's Adventure Within Reach
StayCamp offers a haven right within its boundaries where your dogs can roam, explore, and enjoy the sights and scents of the forest. It's a dog's adventure waiting to happen, right at your doorstep.
StayCamp is more than a luxury camping experience; it's a haven where you and your dogs can create lasting memories together. The PineStone Tent provides all the comforts you need while offering an unparalleled bonding experience with your canine companions. 
So, pack your bags, bring your dogs, and embark on an adventure at this family-owned and operated sanctuary in Spartanburg, SC. StayCamp is where your dogs take center stage, and where the magic of your shared moments truly shines.