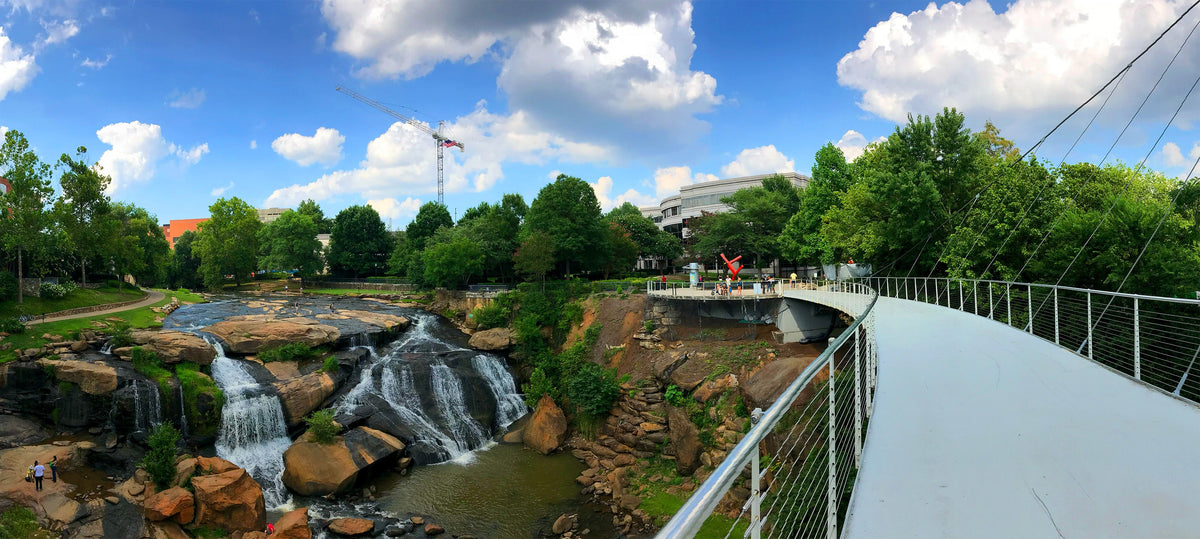 Falls Park: A Dog-Friendly Destination for Nature Lovers in Greenville, South Carolina
Falls Park in Greenville, South Carolina, is a beautiful destination for anyone who loves nature and wants to spend time outside.
The park features a stunning waterfall, beautiful gardens, and plenty of walking paths that are perfect for exploring. If you're a dog owner, you'll be happy to know that Falls Park is also a pet-friendly destination. 
in this article, we'll tell you what you can expect when you spend a day at Falls Park in Greenville, South Carolina, with your furry friend.
Location: 601 S Main St, Greenville, SC 29601
@i_am_thebarkman​​
Walking Trails and Scenic Views
First and foremost, Falls Park is a natural wonder. The Reedy River flows through the park and cascades over a beautiful waterfall, providing a stunning backdrop for your day out. 
The park is home to several trails that meander through lush greenery and over babbling streams. The trails are well-marked and well-maintained, making them perfect for hiking, jogging, or leisurely walks with your pup. As you walk along the paths, you'll be treated to stunning views of the Reedy River and its cascading waterfall. The park also boasts several overlooks that offer panoramic views of the surrounding area.
Picnics and Relaxation
Falls Park is the perfect place to pack a picnic lunch and spend a relaxing afternoon with your dog. The park has numerous grassy areas, benches, and picnic tables, where you can sit and enjoy a meal with a view. You can also take a break from your walk and relax on the lush green grass while your pup plays and sniffs around.
Art and Culture
In addition to its natural beauty, Falls Park is also home to many cultural events throughout the year, including concerts, festivals. The park also features several sculptures and installations that add to the park's unique charm and create a harmonious blend of art and nature.
So, if you're an art enthusiast, don't miss the opportunity to explore Falls Park and discover the art and culture that make this park a true gem.
Dog-Friendly Amenities
Falls Park is a dog-friendly destination, and the park's amenities reflect that. There are several water fountains throughout the park, where you can fill up your dog's water bowl, as well as several waste stations where you can dispose of your pup's waste. 
The park also provides bags for cleaning up after your dog, making it easy to keep the park clean and tidy.
@gooddogsofgreenville​​
So why wait? Grab your leash, put on your favorite Good Dogs of Greenville shirt, and head to Falls Park!  And while you're there, don't forget to share your experience with us by tagging us on social media using the hashtag #gooddogsofgreenville. We can't wait to see you and your furry friend adventuring!
Choosing a selection results in a full page refresh.
Opens in a new window.