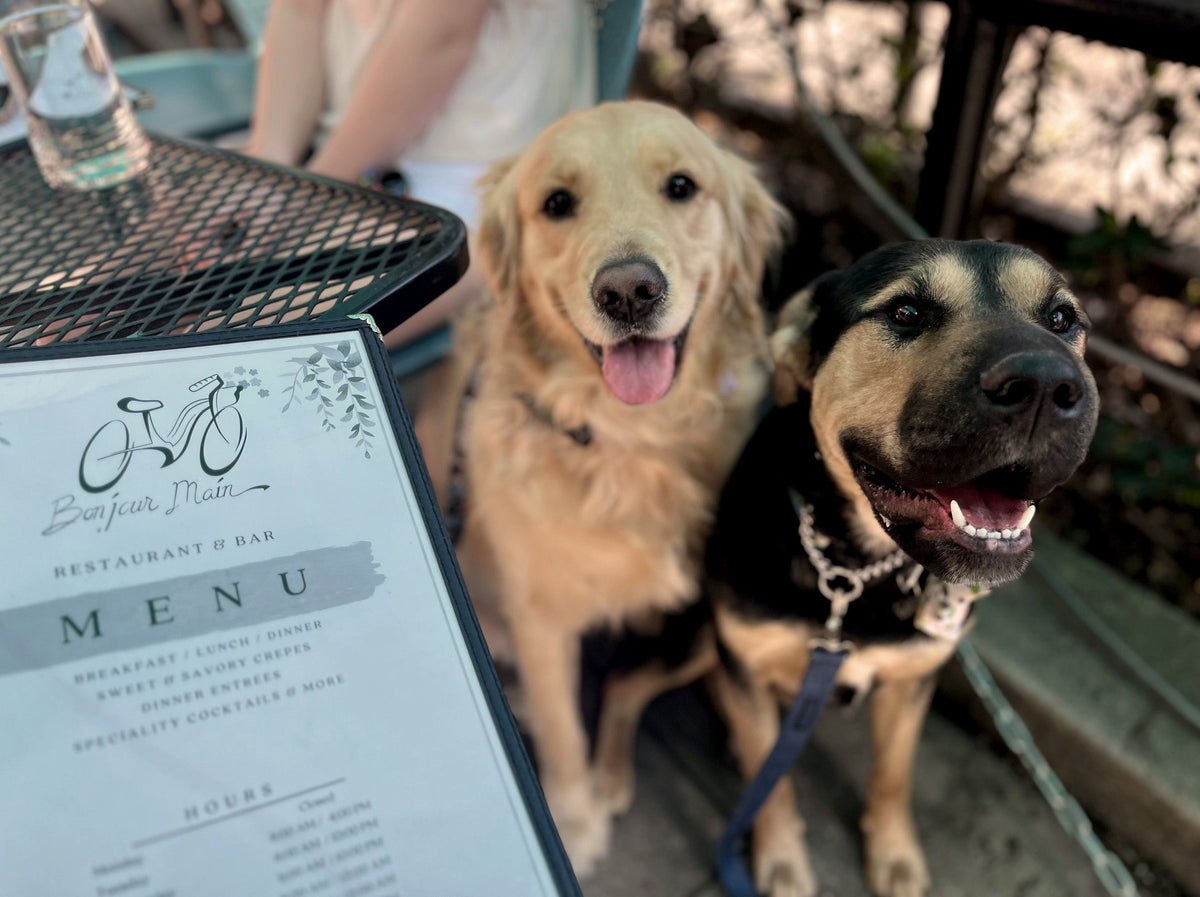 Bonjour Main: A French Creperie Dog-Friendly Restaurant and Locals' Favorite Brunch Spot in Downtown Greenville
Dog-Friendly Outside Only
Location: 20 S Main Street, Greenville, SC 29601
If you're looking for a popular brunch spot in Downtown Greenville, look no further than Bonjour Main. Locals love this charming French creperie for its delicious food, friendly staff, and inviting atmosphere. And with a dog-friendly patio, you can bring your furry friend along for the fun.
The menu at Bonjour Main features a wide range of options, from sweet and savory crepes to breakfast and lunch dinner items. For breakfast, you can indulge in the Bacon, Egg & Potato Crepe or the Sausage, Eggs & Cheese Crepe. If you're in the mood for something sweet, the French Toast and Nutella Crepe are house favorites that won't disappoint.
If you're looking for savory options, the Mushroom, Spinach & Cheese Crepe and the Chicken & Mushrooms Crepe are delicious choices. For seafood lovers, The Norwegian Crepe with smoked salmon, dill cream cheese, and capers is a must-try.
In addition to the scrumptious food, Bonjour Main also offers specialty cocktails, Mimosas, Bloody Marys, and a few beer options. Your furry friend can quench their thirst with a bowl of fresh water while you sip on a refreshing beverage.
The staff at Bonjour Main are incredibly friendly and welcoming to all customers, including furry ones.
So, if you're in the mood for some delicious French cuisine and want to enjoy it with your furry friend, Bonjour Main's dog-friendly patio is the perfect spot. With an delicious menu and a charming atmosphere, it's a must-visit for both dog owners and foodies alike.
So why wait? Grab your leash, put on your favorite Good Dogs of Greenville shirt, and head on over to Bonjour Main for a delicious treat!  And while you're there, don't forget to share your experience with us by tagging us on social media using the hashtag #gooddogsofgreenville. We can't wait to see you and your furry friend enjoying everything that Bonjour Main has to offer.