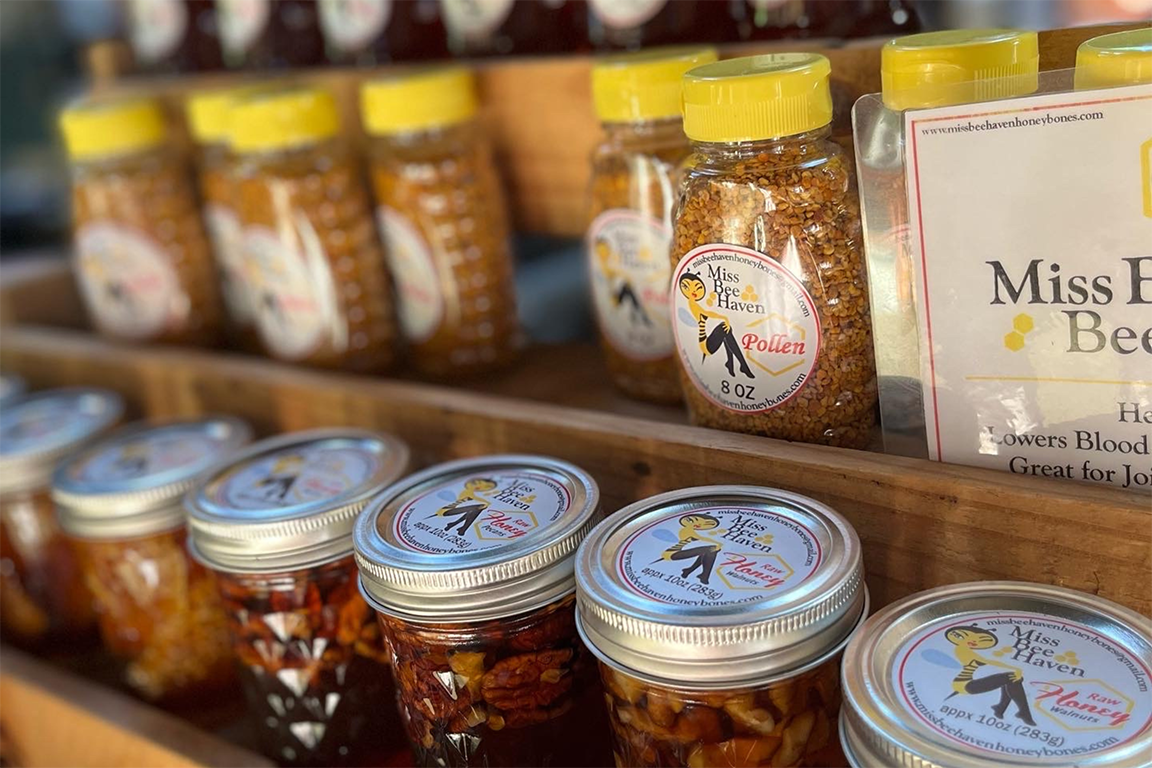 Miss Bee Haven Honey Bones: Natural Honey-Based Products for Pampered Pooches
Meet Miss Bee Haven Honey Bones!
Pup Perks: Free bag of bones with purchase of a dog shampoo when you show your Pup Perks card in-person, or shop online with code: GOODDOGSGVL
Through her deep connection with bees and their incredible contributions to our world, she has channeled their essence into these remarkable treats & products for your pup!
As a dedicated beekeeper, Miss Bee Haven Honey Bones offers a delightful range of all-natural dog biscuits and spa products infused with the goodness of honey (it's good dog allergies, skin & hair).
Join us on this sweet journey as we explore the delectable treats and luxurious spa experiences that await your pampered pooch.
Honey-Infused Sweet Treats
Miss Bee Haven Honey Bones believes in creating treats that not only taste amazing but also offer exceptional health benefits. Her dog biscuits are carefully handcrafted using pure honey, providing a delectable and wholesome snacking experience for your pup. Made with love and the finest ingredients, these all-natural honey-infused treats will have your furry companion begging for more. She even gives them an egg wash with the eggs from her own hens!
Spa Delights Infused with Honey
Let your pup experience the luxury of her honey-infused spa products. Each item is thoughtfully created to provide a pampering experience and harness the natural wonders and healing effects of honey. Explore the range of spa products designed to cater to your pup's specific needs:
Stank Dog Shampoo: Gently cleanse and nourish your dog's coat with their honey-infused shampoo, leaving them feeling refreshed. It is also made with aloe and essential oils. One bottle lasts a long time, and the shampoo is created to go through the fur and get to the skin. As an added perk, it also kills bugs!
Gentle Ear Cleanse: Maintain your pup's ear hygiene with their soothing solution infused with the goodness of honey and essential oils. The Gentle Ear Cleanse kills bacteria and fungus, while cleaning and soothing the ear.
Ruff n Tuff Dog Salve: Protect your furry friend's paws and dry skin with their balm enriched with honey,, beeswax, coconut oil and essential oils! It's great for cuts and rashes too.
Doggie Dental Spray: Keep your pup's breath fresh with their easy-to-use spray, leveraging the natural properties of honey and essential oils. It gives the dogs, fresh breath, kills bacteria, and best of all, breaks up the plaque and tartar, making the vet, dental visits, fewer, and far between.
Pet Perfume: Enhance your dog's natural scent with their light and sweet fragrance mist, featuring a hint of honey, lavender and citrus. You can also spray on them on your pets bed for extra relaxation.
Flea & Tick Spray: Safeguard your furry friend from fleas and ticks with their chemical-free repellent, infused with the goodness of honey. Great for kids too!
Woof Wipes: Quick and refreshing clean-ups are made easy with their honey-infused wipes, ideal for cleaning and brightening under your pets eyes.
Where to Find Miss Bee Haven Honey Bones
Discover these delightful treats and spa products at the Greenville Farmers Market, where you can personally explore and enjoy their range of offerings. Alternatively, you can browse their online store and conveniently order these products for your beloved pup from the comfort of your own home.
Calling All Breweries: Create Tasty Dog Biscuits with Your Spent Grains
If you're looking for a creative and sustainable way to repurpose your spent grains, look no further. At Miss Bee Haven Honey Bones, they have the perfect solution that will make tails wag and leave your furry patrons begging for more—dog biscuits made with your very own spent grains.
By partnering with breweries, Miss Bee Haven Honey Bones can transform your spent grains into delicious and nutritious dog biscuits. It's a win-win situation—they repurpose your grains, reducing waste, and create a delightful treat for Greenville's furry friends.