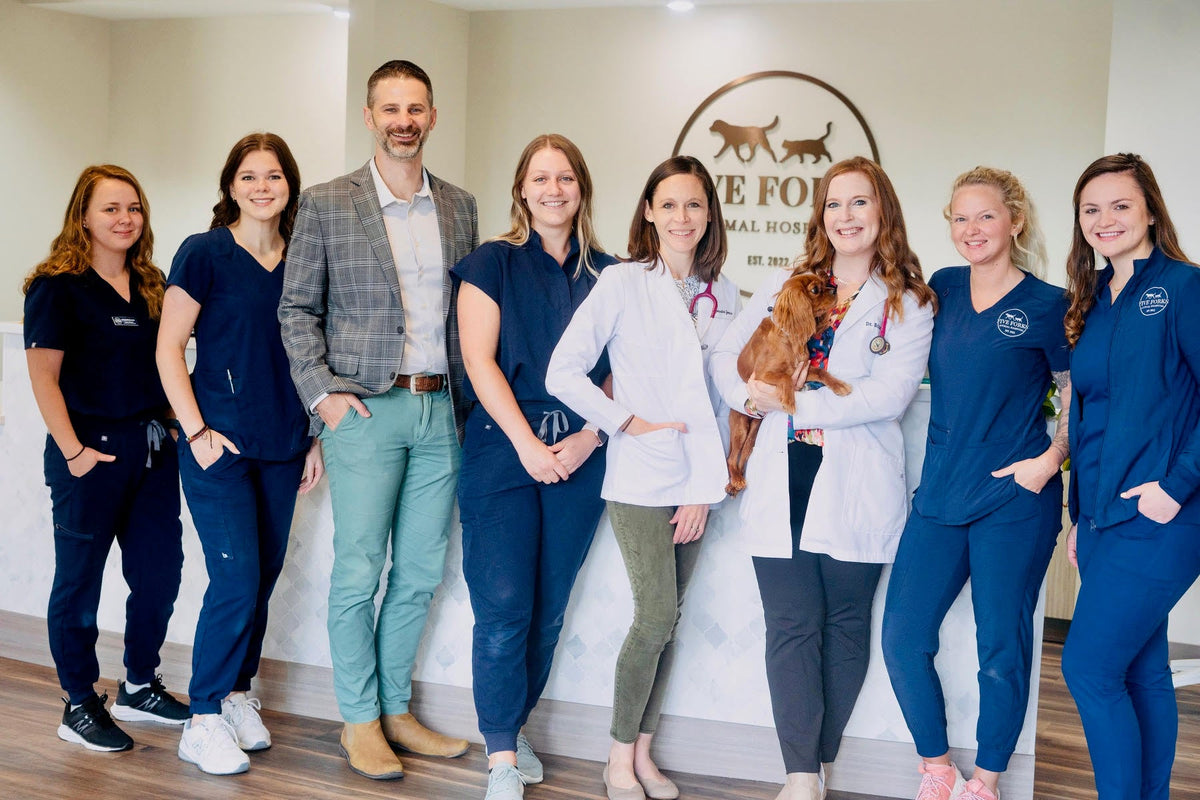 Five Forks Animal Hospital: Providing Exceptional Veterinary Care in Simpsonville
Five Forks Animal Hospital is a Team Partner with the Greenville Swamp Rabbits.
Five Forks Animal Hospital is a leading veterinary care provider serving the Simpsonville community in South Carolina.
Pup Perks: Free Rabies Vaccine for New Clients with Paid Office Visit When You Show Your Pup Perks Card
Five Forks Animal Hospital offers a wide range of veterinary services, including proactive health care, dental care, ear disease treatment, heartworm and flea prevention, spay and neuter, vaccines, X-rays, ultrasound, OFA certification, and soft tissue surgery. 
Hours:
Monday, 8AM–5:30PM
Tuesday, 8AM–5:30PM
Wednesday, 8AM–5:30PM
Thursday, 8AM–5:30PM
Friday, 8AM–5:30PM
Saturday, 8AM–1:00PM
Sunday, CLOSED
Meet the Veterinarians
Dr. Schmitz (Owner - Chief of Veterinary Staff)
Originally from Oceanside, CA, Dr. Schmitz obtained her undergraduate degree in Animal Sciences and her doctorate in Veterinary Medicine from The Ohio State University.

Dr. Schmitz has a passion for animals and has received awards in Ophthalmology, Anesthesia, and Community Practice while obtaining her DVM. She began her career at a private practice in Columbus, OH, and in 2018, she moved to Charleston, SC, where she was named Best Veterinarian in Berkeley County.

Dr. Schmitz started Augusta Road Animal Hospital in Greenville and is excited to bring her high level of medical care and superior client experience to the Simpsonville/Five Forks area at Five Forks Animal Hospital.
Dr. Jones (Veterinarian)
Dr. Jones is originally from Chicago, IL, and obtained her undergraduate degree from the University of Illinois at Urbana-Champaign. She worked as a dietitian before pursuing veterinary medicine.
Dr. Jones attends Mississippi State University for veterinary school and will graduate in May 2023. She has been very involved in the local transport program, Homeward Bound Project of Mississippi, and her favorite part of veterinary medicine is the opportunity to promote the human-animal bond.
Dr. Palmer (Veterinarian)
Dr. Palmer was born and raised in Los Angeles, CA, and received her undergraduate degree in Biological Sciences from Long Beach State University. She completed her veterinary degree at the University of Glasgow in Scotland and began her veterinary career working in shelter medicine. She fell in love with being able to stand for those with no voice and will continue to give her time to help animals in need of care.
Outside of Five Forks Animal Hospital, Dr. Palmer spends her time off with her husband, two dogs, and embraces any opportunity to travel.
Services Offered: Comprehensive Care for Your Pets
Five Forks Animal Hospital offers a wide range of veterinary services to keep your pets healthy and happy. From routine wellness exams to advanced diagnostics and surgeries, they are equipped to handle all of your pet's healthcare needs, including:
Proactive Health & Senior Care: They believe in preventing diseases before they occur and offer customized plans to keep your pet healthy throughout their life.
Dental Care: They understand the importance of dental health in pets and offer state-of-the-art equipment and techniques to keep their teeth and gums healthy.
Heartworm & Flea Prevention: They provide the latest and most effective heartworm and flea prevention products to keep your pets protected.
Spay & Neuter: They offer safe and pain-free spay and neuter procedures to help control the pet population and improve their health.
Vaccines: They offer a comprehensive range of vaccines to protect your pets from common diseases.
X-rays & Ultrasound: Their advanced imaging technology allows them to detect a wide range of health problems.
In-House Laboratory: They offer comprehensive blood work to detect and treat illnesses and diseases.
Soft Tissue Surgery: The Five Forks Animal Hospital team is experienced in a range of soft tissue surgeries, including spay and neuter, cystotomy, tumor removal, and more.
"Special THANK YOU to Five Forks Animal Hospital for taking extra care of this baby today! Y'all these folks know customer service. That coupled with superior veterinary knowledge provides our community top notch animal care in our beautiful Five Forks Community. Welcome to Simpsonville. We are so glad you are here." - Rita S
Why Choose Five Forks Animal Hospital
Choosing the right veterinary hospital for your beloved pet can be a daunting task. At Five Forks Animal Hospital, they understand that your pet is an important member of your family, and they strive to provide the highest level of care possible.
Here are some reasons why you should choose Five Forks Animal Hospital for your pet's health care needs:
Experienced and compassionate staff: Their team of veterinary professionals are dedicated to providing excellent care to your pet. From routine check-ups to complex surgical procedures, they are committed to ensuring your pet's health and well-being.
State-of-the-art facilities and equipment: They have invested in the latest equipment and technologies to provide the most advanced and comprehensive care for your pet. Their modern facilities include a fully equipped surgical suite, in-house laboratory, digital radiography, and more.
Personalized care: They understand that every pet is unique, and they tailor their care to meet their specific needs. Their knowledgeable staff takes the time to get to know you and your pet, and they work closely with you to develop a treatment plan that meets your pet's needs and your budget.
Proactive approach to health care: They believe that prevention is the key to maintaining your pet's health. That's why they offer a range of preventive services, including vaccinations, dental care, parasite prevention, and more.
Convenient location: Their hospital is conveniently located in the heart of Simpsonville, making it easy for you to access the care your pet needs.
At Five Forks Animal Hospital, they treat your pet like family. Contact them today to schedule an appointment and experience the difference their compassionate care can make for your pet's health and well-being.
"The doctor and staff are super friendly, and very helpful, and checked everything on our baby. If someone is looking for a good animal hospital, I would like to recommend they come here!" - Lindsey O
What to Expect When Becoming a New Patient at Five Forks Animal Hospital
Welcoming new patients is a top priorities at Five Forks Animal Hospital. They aim to make the process as smooth and stress-free as possible.
Your First Appointment
When you schedule your pet's first appointment, they take the time to get to know you and your furry family member. Their experienced team will ask you questions about your pet's history, lifestyle, and any specific concerns or issues you may have noticed. This information will help them create a personalized plan for your pet's care.
During the Visit
During your pet's first visit, a veterinarian will perform a comprehensive physical examination, including a nose-to-tail assessment of your pet's overall health. If needed, they may recommend additional diagnostic tests or procedures to get a better understanding of your pet's condition. They will discuss all of our findings with you and work together to develop a treatment plan that meets your pet's unique needs.

Collaboration
At Five Forks Animal Hospital, they believe that pet care should be a collaborative effort between pet owners and our veterinary team. They encourage you to ask questions and share any concerns you may have about your pet's health. They are there to support you and your furry family member every step of the way.
"I'm so happy I found this animal hospital. The friendly and knowledgeable staff gave my little best friend such great care. They made sure to check up on her after our visit to make sure she was feeling better. Dr. Schmitz is great!" - Tara B
Make an Appointment at Five Forks Animal Hospital