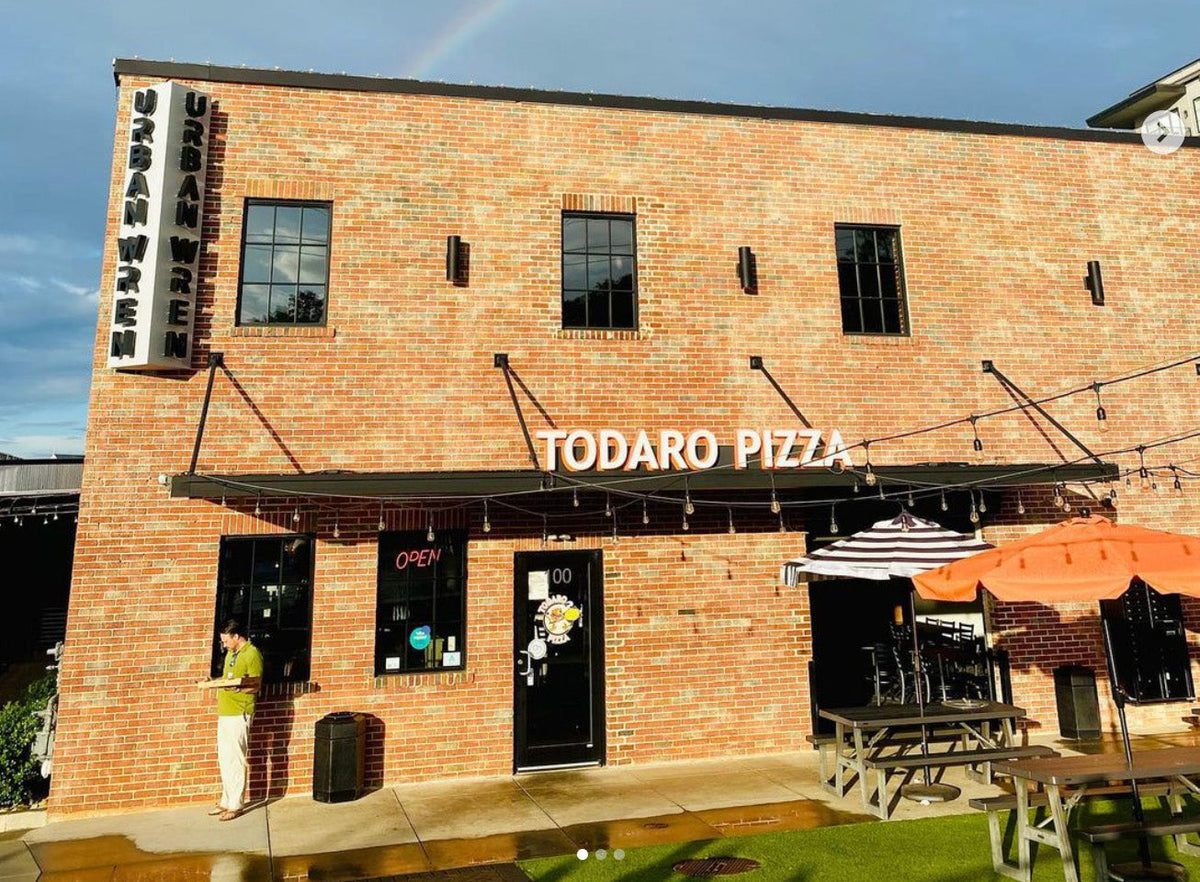 Todaro Pizza in Greenville: A Dog-Friendly Pizzeria on Turf
Dog-Friendly Outside Only
Location: 116 N Markley St Suite 100, Greenville, SC 29601
If you're looking for a delicious pizza joint in Greenville, South Carolina that welcomes your furry friend, look no further than Todaro Pizza. This family-run pizzeria offers fast-casual, family-friendly dining with a menu featuring Neapolitan-style, hand-tossed, thin-crust pizza. They also delivery their delicious pizza to the Hoppin' Brewery next-door. 
Todaro Pizza is a staple in the West End neighborhood of Greenville, with a 4.6 out of 5 stars rating on Google and a 4.5 out of 5 stars rating on Yelp. The restaurant's success is attributed to high-quality ingredients, unparalleled customer service, and a familial environment where customers are treated like extended family.
But what makes Todaro Pizza truly awesome is their pet-friendly policy. You can bring your furry friend to join you at a picnic table on the turf while you enjoy some of the best pizza in town. This is a great option for pet owners who don't want to leave their dog at home while they go out to eat.
In addition to their famous thin-crust pizza, Todaro Pizza offers a variety of dishes to satisfy any appetite. Their no-limit lunch pizza buffet, available Monday through Friday from 11:30 am to 2:30 pm and Sunday from 12:00 pm to 3:00 pm, offers excellent value for families and groups.
Their traditional pizzas are available in medium and large sizes, with a range of toppings to choose from. You can also try their stuffed pizzas, which are packed with mozzarella and your choice of fillings. Their specialty pizzas, available in personal, medium, and large sizes, offer unique flavor combinations like the Chicken & Broccoli fra Diavolo and the Buffalo Chicken Pizza.
If you're in the mood for something other than pizza, Todaro Pizza also offers salads, calzones, strombolis, garlic knots, breadsticks, wings, chicken fingers, meatballs, and a Caprese platter. And don't forget to finish off your meal with one of their delicious desserts, like cannoli or Nutella pizza.
So, if you're looking for a pet-friendly restaurant in Greenville that offers excellent pizza and a welcoming atmosphere, be sure to check out Todaro Pizza. With its family-friendly environment, delicious food, and turf area for your furry friend, you won't be disappointed!
Hungry? Grab your leash, put on your favorite Good Dogs of Greenville shirt, and head on over to Todaro Pizza!  And while you're there, don't forget to share your experience with us by tagging us on social media using the hashtag #gooddogsofgreenville. We can't wait to see you and your furry friend enjoying everything that Todaro has to offer.