Unleash Deals with the Good Dogs of Greenville Pup Perks
We are excited to introduce a new program, which will offer members discounts and deals at participating businesses.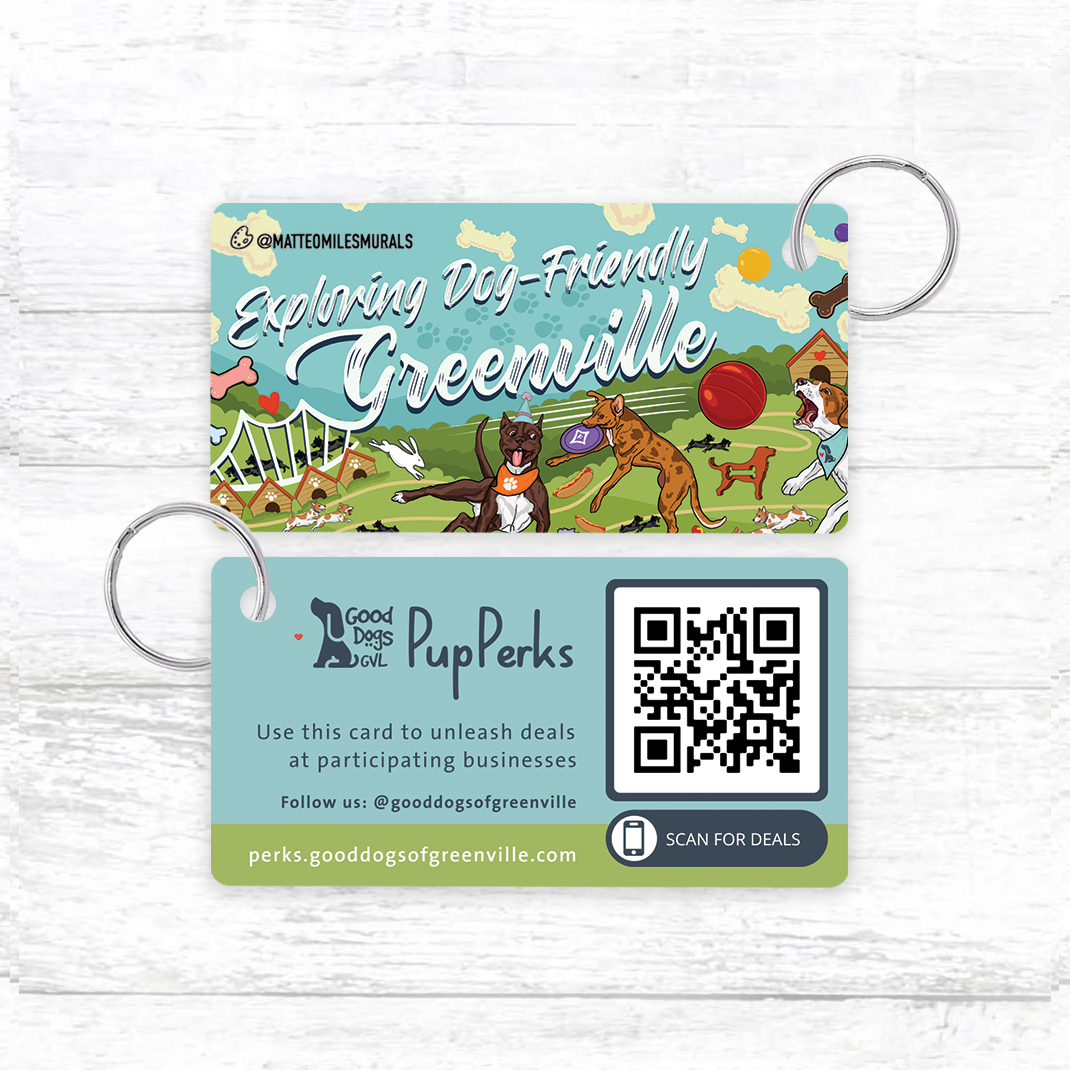 With this program, members will gain access to discounts and deals at a wide variety of local businesses, from pet stores to restaurants, breweries and more. Our program is designed to benefit both dog owners and participating businesses in the community.
See all Current Pup Perks
Frequently Asked Questions
Q: What is the Good Dogs of Greenville Pup Perks Program?
A: The Pup Perks Program is a discount program designed to benefit both participating businesses and dog owners in the Greenville, SC area. It offers members discounts and deals at local businesses and provides participating businesses with increased exposure to and loyalty from dog owners.
Q: How does the Pup Perks Program work?
A: Participating businesses offer discounts and perks to Pup Perks members. These discounts can be ongoing throughout the year, for a limited time or for one-time use only. Members receive a keytag with a QR code that takes them to our website, which lists all of the perks of the program and the businesses from which they can receive discounts.
Q: When will the Pup Perks Program be launched?
A: We are launching the program this summer! We currently have 20,000 Pup Perks tags in production that will be given to attendees at events like Bark in the Park, UltiMutt & more. We are also partnering with local realtors who will give them out to their clients, and we will be placing them in local businesses.
Q: How can my business participate?
A: Send us a message and we would be happy to send you more information about this program.
Q: What kind of discounts and perks can my business offer to Pup Perks members?
A: You can offer ongoing discounts and perks throughout the year, limited use discounts or one-time discounts. It's up to you!
Q: Can businesses update their discount offers throughout the year?
Yes, businesses can update their discount offers at any time. We encourage businesses to promote special deals or events throughout the year to keep the program fresh and exciting for members.
Q: How do Pup Perks members redeem their discounts at my business?
A: Members will present their key-tag with a valid year. Your staff can manually enter the discount at the point of sale.
Q: Can Pup Perks members use their discounts multiple times?
A: Yes, and it depends! Members can use their discounts as many times as they like as long as it's valid for multi-use. If you are offering a one-time use offer it is up to your POS system to register the participant and redeem their usage.
Q: How often will we need to renew our participation in the program?
A: Participation in the program is renewed annually. We will reach out to participating businesses prior to the renewal date to confirm continued participation and update any information needed.
Q: How will we track the success of the program?
A: At this time, we do not have the capability to track the success of your perk usage on our end. We encourage participating businesses to track their own success by monitoring the use of the perks offered. If the program does well during the first year we will be looking into higher tech options to track success on our end.
Q: Can businesses opt out of the Pup Perks program during the year?
A: While we hope that all participating businesses will see the benefits of the program and continue to offer discounts to our members, we understand that circumstances may change. However, we kindly ask that businesses commit to the program for the duration of the year in order to provide consistent discounts and deals to our members. This ensures that our members continue to see the value of the program and the participating businesses. If a business needs to opt out for any reason, we ask that they notify us as soon as possible so that we can update our list of participating businesses.