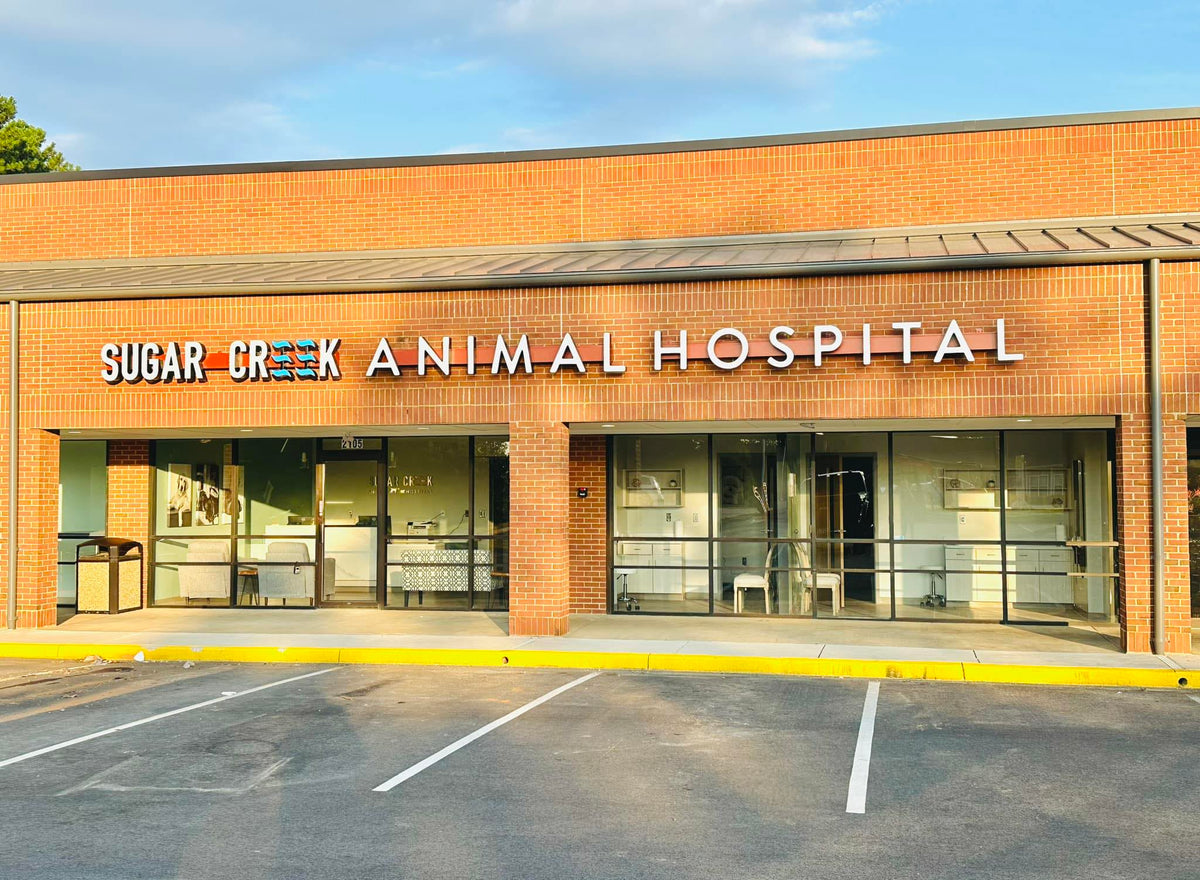 Sugar Creek Animal Hospital: An Energizing Veterinary Style Serving Greenville & Greer
Sugar Creek Animal Hospital is a comprehensive veterinary hospital that provides top-quality medical care to pets in the Greenville & Greer areas.
Pup Perks: Free Rabies Vaccine for New Clients with Paid Office Visit When You Show Your Pup Perks Card
Sugar Creek Animal Hospital offers a wide range of veterinary services, including proactive health care, dental care, ear disease treatment, heartworm and flea prevention, spay and neuter, vaccines, X-rays, ultrasound, OFA certification, and soft tissue surgery. 
Hours:
Monday, 8AM–5:30PM
Tuesday, 8AM–5:30PM
Wednesday, 8AM–5:30PM
Thursday, 8AM–5:30PM
Friday, 8AM–5:30PM
Saturday, 8AM–1:00PM
Sunday, CLOSED
Meet the Veterinarian
Dr. Josh Ames (Veterinarian)

Dr. Josh Ames, a dedicated veterinarian, has been serving Upstate South Carolina since 2011. With a passion for animal care nurtured since childhood, Dr. Ames obtained a Bachelor of Science in Agriculture from the University of Georgia and fulfilled his dream of becoming a Doctor of Veterinary Medicine at St. George's University. Throughout his career, he has developed expertise in surgery, internal medicine, and small mammal and exotic medicine. 
Dr. Ames actively contributes to the veterinary community and was honored as Spartanburg's Best Veterinarian in 2022. He is excited to bring his experience and compassion to the Greer area and is committed to providing exceptional care to every pet and family. Outside of work, Dr. Ames enjoys spending time with his family, building a hobby farm, and pursuing outdoor activities. Visit him at Sugar Creek Animal Hospital to experience his dedicated service firsthand.
Services Offered: Comprehensive Care for Your Pets
Sugar Creek Animal Hospital offers a wide range of veterinary services to keep your pets healthy and happy. From routine wellness exams to advanced diagnostics and surgeries, they are equipped to handle all of your pet's healthcare needs, including:
Preventative Health & Senior Care: They believe in preventing diseases before they occur and offer customized plans to keep your pet healthy throughout their life.
Dental Care: They understand the importance of dental health in pets and offer state-of-the-art equipment and techniques to keep their teeth and gums healthy.
Heartworm & Flea Prevention: They provide the latest and most effective heartworm and flea prevention products to keep your pets protected.
Spay & Neuter: They offer safe and pain-free spay and neuter procedures to help control the pet population and improve their health.
Vaccines: They offer a comprehensive range of vaccines to protect your pets from common diseases.
X-rays & Ultrasound: Their advanced imaging technology allows them to detect a wide range of health problems.
In-House Laboratory: They offer comprehensive blood work to detect and treat illnesses and diseases.
Soft Tissue Surgery: The team is experienced in a range of soft tissue surgeries, including spay and neuter, cystotomy, tumor removal, and more.
OFA Certification: Sugar Creek Animal Hospital veterinarians can take the essential X-rays on-site and send them off to radiologists for extra evaluation before you breed your pet.
Exotic Pets:

They are ble to provide care to a variety of small mammals available as pets such as rabbits, guinea pigs, hamsters, gerbils, chinchillas, & ferrets. In addition we're also happy to be able to offer care for snakes, lizards and other reptiles, as long as they are a non-venomous species.
Why Choose Sugar Creek Animal Hospital
Choosing a veterinary hospital can be a significant decision. At Sugar Creek Animal Hospital, they understand that your pet is an important member of your family, and they strive to provide the highest level of care possible.
Here are some reasons why we believe that Sugar Creek Animal Hospital is the best choice for your furry friend's health care needs:
Experienced and compassionate staff: Their team of veterinary professionals are dedicated to providing excellent care to your pet. From routine check-ups to complex surgical procedures, they are committed to ensuring your pet's health and well-being.
State-of-the-art facilities and equipment: They have invested in the latest equipment and technologies to provide the most advanced and comprehensive care for your pet. Their modern facilities include a fully equipped surgical suite, in-house laboratory, digital radiography, and more.
Personalized care: They understand that every pet is unique, and they tailor their care to meet their specific needs. Their knowledgeable staff takes the time to get to know you and your pet, and they work closely with you to develop a treatment plan that meets your pet's needs and your budget.
Proactive approach to health care: They believe that prevention is the key to maintaining your pet's health. That's why they offer a range of preventive services, including vaccinations, dental care, parasite prevention, and more.
Convenient location: Sugar Creek Animal Hospital is conveniently located in the heart of Greer, making it easily accessible to pet owners in the surrounding areas.
At Sugar Creek Animal Hospital, they treat your pet like family. Contact them today to schedule an appointment and experience the difference their compassionate care can make for your pet's health and well-being.
What to Expect When Becoming a New Patient at Sugar Creek Animal Hospital
Welcoming new patients is a top priorities at Sugar Creek Animal Hospital. They aim to make the process as smooth and stress-free as possible.
Your First Appointment
When you schedule your pet's first appointment, they take the time to get to know you and your furry family member. Their experienced team will ask you questions about your pet's history, lifestyle, and any specific concerns or issues you may have noticed. This information will help them create a personalized plan for your pet's care.
During the Visit
During your pet's first visit, a veterinarian will perform a comprehensive physical examination, including a nose-to-tail assessment of your pet's overall health. If needed, they may recommend additional diagnostic tests or procedures to get a better understanding of your pet's condition. They will discuss all of our findings with you and work together to develop a treatment plan that meets your pet's unique needs.

Collaboration
At Sugar Creek Animal Hospital, they believe that pet care should be a collaborative effort between pet owners and our veterinary team. They encourage you to ask questions and share any concerns you may have about your pet's health. They are there to support you and your furry family member every step of the way.
Make an Appointment at Sugar Creek Animal Hospital