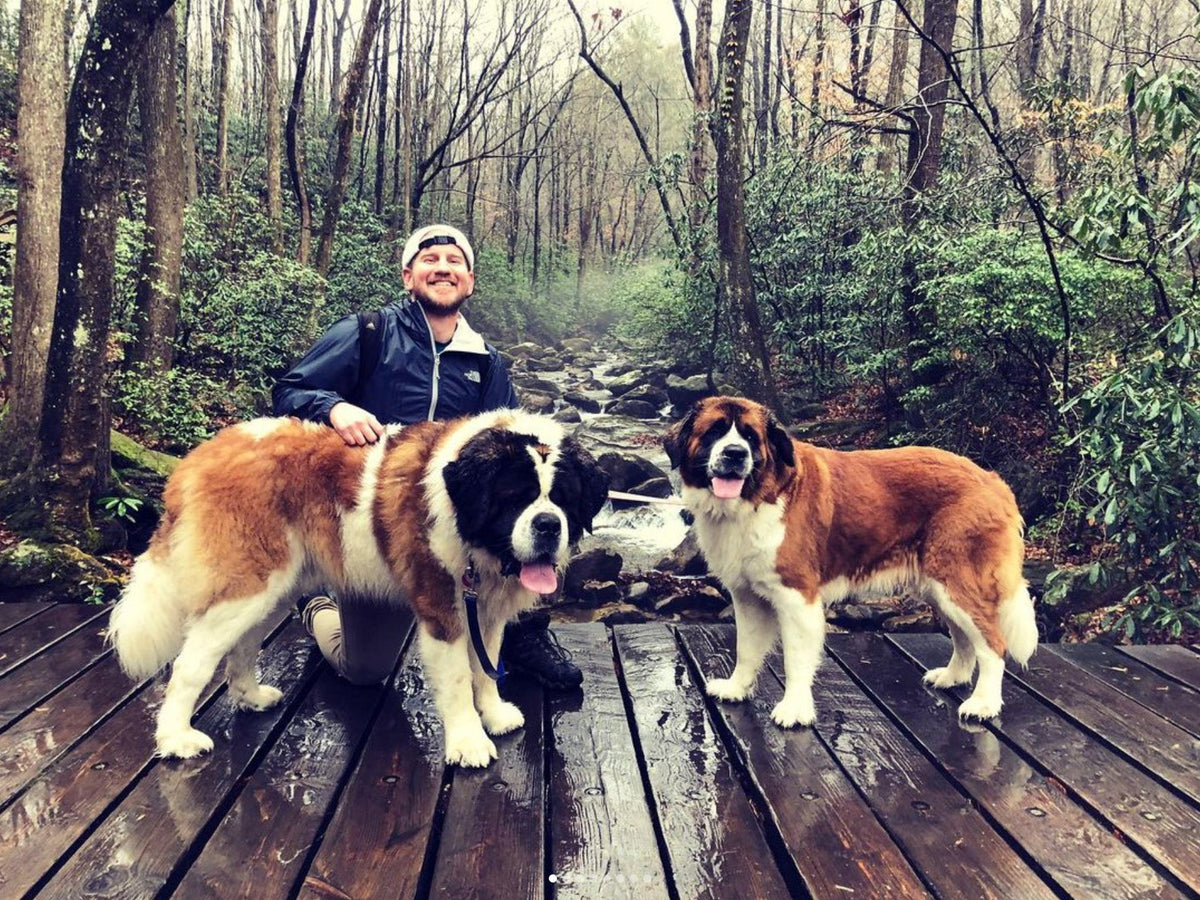 Discover 7 of Greenville's Scenic Trails with Your Pup
It's a beautiful day for a walk or hike, and what better way to spend it than exploring one of Greenville's many scenic trails with your pup?
Greenville is blessed with an abundance of nearby natural beauty, from rolling hills and forests to sparkling lakes and waterfalls, and there's no better way to experience it than on foot with your furry friend.
Whether you're looking for a short and easy walk or a more challenging hike, there's a trail in Greenville for you and your pup. So, grab your leash, some water, and a few treats, and let's explore some of Greenville's most picturesque places. 
Some popular options include:
Falls Park on the Reedy
Falls Park on the Reedy is an exquisite oasis that beckons visitors to escape the hustle and bustle of downtown Greenville. The park spans over 32 acres and features a plethora of delightful attractions that appeal to people of all ages. The park is situated in the heart of downtown Greenville, making it a prime destination for tourists and locals alike.
At the heart of Falls Park on the Reedy are its namesake falls. The cascading waterfall spans across the Reedy River, creating a picturesque scene that's hard to forget. The falls are particularly stunning during the summer months when the surrounding flora is in full bloom.
@caseythepyrmix​​
Swamp Rabbit Trail
While not a traditional hiking trail, the Swamp Rabbit Trail is a must-visit for any dog owner in Greenville.  The Swamp Rabbit Trail is one of the most popular recreational destinations for dog owners in Greenville, South Carolina. This 22-mile multi-use paved trail stretches from the heart of downtown Greenville all the way to Travelers Rest, and offers an excellent opportunity to explore the beauty of the region with your furry friend.
The trail is perfect for both leisurely walks and vigorous exercise, and is ideal for dogs who love the outdoors. It winds through scenic woodlands, charming small towns, and stunning vistas, providing plenty of opportunities to stop and take in the breathtaking sights along the way.
@gooddogsofgreenville​​
Lake Conestee Nature Preserve
Lake Conestee Nature Park is a hidden gem located in Greenville, South Carolina. Spanning over 400 acres, it is a beautiful wildlife sanctuary that offers a peaceful escape from the hustle and bustle of city life. With over 12 miles of trails, there is something for everyone to enjoy, from avid hikers to casual nature lovers.
One of the most captivating things about Lake Conestee Nature Park is the diversity of its wildlife. Visitors can spot beavers, otters, and over 200 species of birds, including blue herons, woodpeckers, and great horned owls. The park is also home to various mammals, reptiles, and amphibians, making it an excellent spot for animal enthusiasts.
@thebernerboysofsc​​
Paris Mountain State Park
Paris Mountain State Park is a dog owner's paradise in Greenville. Spread over 1,500 acres, this state park offers endless opportunities for hiking, exploring, and relaxing with your furry friend. With over 15 miles of trails that range from easy to challenging, you and your dog can take a scenic stroll or go on a more adventurous hike.
The Sulphur Springs Trail, one of the most popular hiking trails in the park, offers breathtaking views of the lake and surrounding mountains. The trail is well-marked and easy to follow, making it perfect for dog owners of all experience levels. Along the way, you'll encounter streams, waterfalls, and wildlife, making for a truly memorable outdoor experience.
@sirwinstonthebeau​​
Jones Gap State Park
If you're looking for an adventure with your furry companion, Jones Gap State Park is a great place to start. This rugged park spans over 4,000 acres of pristine wilderness, featuring a variety of trails that wind through dense forests, rocky outcroppings, and along the Middle Saluda River.
One trail that is particularly popular with dog owners is the Rainbow Falls Trail. This trail offers stunning views of the 100-foot waterfall and is a great way to experience the beauty of the park.
There are miles of trails to discover and plenty of opportunities to enjoy the fresh air and stunning scenery. Plus, with the Middle Saluda River flowing through the park, there are plenty of spots for your furry friend to cool off on a hot day.
@samoalaska_aussies​​
Ceasars Head State Park
Ceasars Head State Park is located just a short drive from Greenville and boasts some of the most breathtaking views of the Blue Ridge Mountains.
With over 50 miles of hiking trails to explore, you and your furry companion can enjoy an array of experiences ranging from easy to challenging. 
One of the most popular trails at the park is the Raven Cliff Falls Trail, which features a stunning 400-foot waterfall. This moderate 4.8-mile hike is the perfect option for those looking for a scenic adventure with their pup. The trail follows a creek and leads to a suspension bridge, where you can take in the views of the falls and surrounding forests.
@taylormorrisrdn​​
Bald Rock (Mountain Bridge Wilderness Area)
If you're driving to Caesar's Head State Park with your furry friend, don't miss the chance to stop at Bald Rock for a stunning view of the Carolina foothills. This natural scenic overlook is part of the Bald Rock Heritage Preserve.
Located about five miles from the park headquarters, Bald Rock is a huge rock outcropping that spans the size of a football field. This overlook is an ideal spot to take a break from your drive and let your dog stretch their legs. The view of the foothills and the surrounding forests is breathtaking. Find a spot on the rock, sit back, and enjoy your "king of the world" moment with your furry companion.
@laylathecavalier​​
No matter which trail you choose to explore, remember to always bring plenty of water for you and your pup, as well as a leash and waste bags. And don't forget to put on your favorite Good Dogs of Greenville shirt, and take plenty of pictures to share with the Good Dogs of Greenville community using hashtag #gooddogsofgreenville
So, what are you waiting for? It's a beautiful day for a hike, so grab your pup and hit the trails. Happy exploring!